River Severn safety campaign launched in Shrewsbury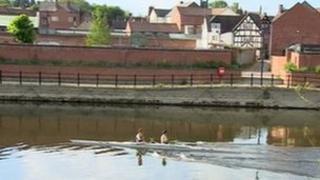 A £2,000 safety campaign is being launched in Shrewsbury after several people drowned in the River Severn in recent years.
There have been 29 deaths recorded in the town and surrounding area since 2006, according to Shropshire Council.
A council spokesman said extra safety barriers and life buoys had been installed but there were still risks.
Shropshire Swim Academy will launch the campaign at the Shrewsbury River Festival on Sunday.
The aim is to offer life-saving classes as well as discounted swimming lessons.
Tim Sneddon, from the council, said a safety audit and risk assessment had been carried out on the river.
Mr Sneddon said: "There were quite a number of recommendations that came from that work including life buoy provision, improving some of the barrier provision and numbering all the life buoys.
"We've been doing other work with the police and the leisure industry in raising awareness."