Shropshire Council U-turn on Shrewsbury road crossing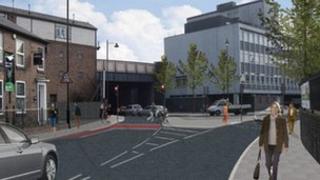 A road crossing in Shrewsbury is to be removed less than two years after it was built as part of a £1.8m project.
The traffic refuge on Smithfield Road was built by Shropshire Council in September 2010 to improve the cycling network through the town.
Leader of the town council Peter Nutting said the refuge had failed to improve access for cyclists and had actually increased traffic congestion.
Shropshire Council said the scheme was not paid for through taxes.
It said the refuge had cost about £19,000 to install, which was covered by grants from Sustrans and the Big Lottery Fund.
Mr Nutting said the crossing point meant vehicles were forced to merge into a single lane, which caused traffic to back up through Frankwell and up Copthorne Road.
In a statement Shropshire Council said: "Listening to requests from the public and councillors to remove the refuge, mostly as it was seen to be adding to congestion, and taking the other traffic management changes into consideration, we have decided on its removal.
"The upgrade works at the Raven Meadows junction provided an opportunity to add measures for pedestrians and cyclists.
"We now have a continuous cycle route between the Welsh Bridge and Raven Meadows, mostly on the river side of the road, with a safe crossing point."