Charles Green death: Burglars guilty of manslaughter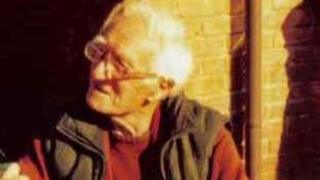 Two burglars who attacked a Shropshire pensioner who later died in hospital have been convicted of manslaughter.
Daniel Keeble, 26, of no fixed abode, and 24-year-old Peter John Marston, of Stafford, were found guilty of manslaughter at Stafford Crown Court.
Charles Green, 87, was attacked in his Oswestry home in May 2011. He was later filmed by police describing the attack.
It is thought to be the first time headcam footage from a person who later died has been used in a court case.
The jury was shown video, filmed on a police officer's headcam, of the great grandfather describing the attack. He had called 999 after the attackers left his home.
'Proudly independent'
The evidence formed a crucial part of the prosecution case.
As well as manslaughter, Marston was also found guilty of a charge of burglary. Keeble had already admitted this charge.
Judge Simon Tonking told the pair they would receive significant custodial sentences at a later date.
Mr Green, who served as a Royal Marine in World War II, suffered a broken pelvis and hip. He also sustained head injuries and died in hospital a month after the attack.
The victim's son, Lawrie Green, said his father was a "contented and healthy 87-year-old man" who lived alone and was "proudly independent".
He said: "His last independent act was with steely willpower to inch his way five metres to his telephone and call 999 and then within 30 minutes give an accurate account of what had occurred.
"We are all proud of him and we miss him."
Det Insp Mick Homden, from West Mercia Police, said Charles Green was "shown no mercy".
He added: "It was a sickening and cowardly assault on a defenceless pensioner."
Mr Green's family said that he had been a keen musician. The only luxuries he allowed himself were his piano, flute and piccolo.