New director of Ludlow Assembly Rooms is 'positive' about the future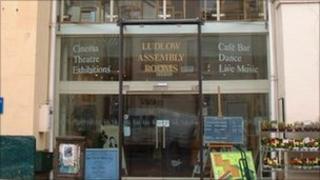 The new director of the Ludlow Assembly Rooms says she is "positive about the future" despite the loss of a £60k Arts Council grant.
Rachel Buchanan, who grew up in the town before moving to London, insists she is looking forward to the challenge.
Shropshire Council has pledged around £230,000 over the next three years to ensure its medium-term future.
The 32-year-old said she had "the best job in Shropshire".
She described her new role as "exciting, but a bit surreal".
"Cuts haven't just affected the arts, they've affected everybody," said Ms Buchanan.
"The Assembly Rooms has had a bit of a rough time of it - it's difficult losing a director and things like that.
"It's been a bit tough, but I feel really positive about the future, there's so much potential and goodwill here.
"£60,000 [in cuts] in the grand scheme of things is not that much, and I know an awful lot of arts organisations - including the Arts Council itself - that had a much bigger cut.
"With careful management and a lot of good programming, I'm really not worried.
"This building is very much a centre of a community and I'd really like to get to know everybody in the community.
"I want to be able to put on things that the audience wants."
Shropshire Council has said it will support the theatre until 2015 to give it time to replace its lost arts grant.