Donald Neilson death 'won't bring closure', says friend of Lesley Whittle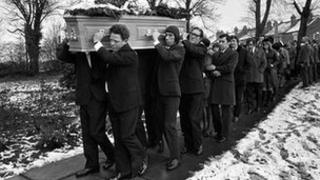 "His death will never bring closure because I can never forget her."
Denise Bache, a childhood friend of Lesley Whittle, said she would never fully come to terms with Donald Neilson's most notorious murder.
In a previously unreleased interview given to BBC Radio Shropshire when Neilson was diagnosed with motor neurone disease two years ago, Ms Bache described how the kidnapping of the 17-year-old heiress in 1975 shook their home village of Highley.
She said: "I remember it in my head quite clearly, we'd been on a night out and my father-in-law told me Lesley had been kidnapped.
"It was unbelievable, and to think it could happen to somebody like that.
"Our initial thought was that it was a rag week prank from university but it soon became clear that it wasn't.
"It was unbelievably big, I don't think people could grasp that that could happen in their small village - nobody really knows, only Neilson knows."
'So beautiful'
Ms Bache said the news of his death would not help her or the village come to terms with Lesley's murder.
She said: "It's a close community, it still is, and when something like that happens it's unbelievable - when your village is on the TV and in the press like that, it's unbelievable."
Ms Bache remembered playing with Lesley during the summer holidays.
She said: "I remember the rocking horse, which I was very jealous of, and we used to play in the Wendy house and we had a tea-set and we used to make tea for our dolls.
"She was a very studious girl, very clever, well-spoken, very kind and I always remember the red tap shoes - she used to have lessons.
"They didn't fit her any more and she gave them to me - I cherish those little red shoes, that's the one of the happy memories I have of Lesley."
Ms Bache said she regretted losing contact when they went their separate ways as teenagers.
"With hindsight, which is easy to think about, I do regret it - I'll always remember she was so beautiful.
"Her life was cut short, I'll never never forget her and I think about her regularly."