Salmon trapped by low water continue their journey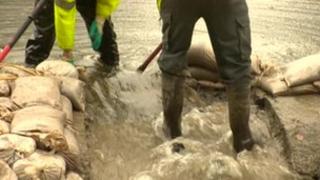 Atlantic salmon that were stuck in low water on a Shropshire river have been able to continue their journey upstream after two weirs were modified.
The Environment Agency said, combined with recent rainfall, the modifications had helped the fish jump the hurdles to make their way to spawning grounds.
The fish needed to work their way up the River Teme to 31 miles (50km) north of Ludlow to spawn in shallow pools.
Some weigh up to 30lbs (14kg), with females carrying up to 10,000 eggs.
Between 29 November and 1 December, the Environment Agency made temporary modifications to the Dinham and Mill Street weirs.
The spokesman said the modifications enabled the fish, some of which may have travelled from Greenland, to negotiate the weirs and move upstream.
Within a short time of the modifications being completed, salmon were seen using the passages to ascend the weir.
Chris Bainger, technical fisheries specialist, said: "We realised quite quickly that the rainfall was not going to be enough to raise the level of the river so the fish could jump the weir.
"We worked closely with a number of people to make sure we could help the salmon reach their spawning ground, to ensure the future health of the river."
In August, about 800 salmon, brown trout and grayling in the river at Lentwardine had to be moved up and downstream on two occasions after water fell to dangerous levels.