China's 3D TV in Much Wenlock, 'birthplace' of Olympics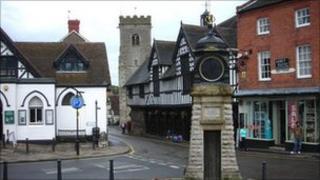 A Chinese TV crew has been filming in a Shropshire town as part of international coverage ahead of the 2012 London Olympic Games.
China's 3D TV is the latest international television channel to visit Much Wenlock.
The town is widely credited as the birthplace of the modern Olympic movement, after games were established by Dr William Penny Brookes in 1850.
Much Wenlock has recently featured on TV in the United States and Brazil.
A team from Australia's Channel 7 programme Travel Bug is also due to visit on Friday.
Tim King, tourism officer at Shropshire Council, said many international journalists and TV crews were surprised to find the inspiration for the modern Olympics came from Much Wenlock, which has a population of a little more than 3,000.
"They know the Olympics goes around the world, but they don't know the background. Thankfully, Wenlock is a beautiful location and very photogenic."
Mr King said it was difficult to estimate what impact the coverage would have on tourism in the area over the next 12 months.
He added that about 40 media teams had already contributed to the local economy over the past year.