Shrewsbury prison art course gives inmates job hopes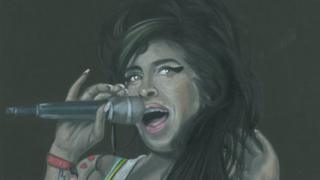 Prisoners in a Shropshire jail are hoping an art project will give them the skills and confidence to find work when they are released.
Fresh Start New Beginning is a charity set up by the Shrewsbury and Telford Community Chaplaincy which has been running at Shrewsbury prison for the past six years.
Governor Gerry Hendry is one of the trustees. He said they were trying to do something different from the "carrot and stick" approach used in the past.
"You can't legislate to change the way that people think," he said.
"They have to want to change. They have to want to do something different and it was really finding a vehicle with which we could do this."
'Colourful past'
The art project has its own workshop where inmates can use their artistic talents.
"We bring these talents out of people and produce some real quality artwork and model work. All of this is then sold through the charity, either at auction or through a charity shop we run over Christmas in Shrewsbury," Mr Hendry said.
One inmate, 36-year-old Sven Dahlberg, from Halifax, has just had an exhibition of his art at the Market Hall in Shrewsbury. He arrived at the prison when the project started and still has three years of his sentence to run.
He worked as an engineer before being jailed, but sees his future in art.
"I think it's definitely something I'm going to explore. I've got another set of pictures I'd like to do a show with. That's something in the future," he said.
Wade Walsh, 36, from Wallasey on Merseyside, has been in and out of prison since he was 15.
"I'm not going to lie about it, I've got a bit of a colourful past. In and out of prison, on the drink, committing crime," he said.
He has found what he hopes will be a career in art through Fresh Start New Beginning.
"I've done a business course in Shrewsbury revolving around my artwork. I got a business plan together and I've had feedback from galleries who want to meet me when I get out," he said.
'Success rate'
Mr Hendry is convinced the project helps to prevent reoffending.
He said: "I think the evidence we can produce so far says 'yes, we do have a success rate'. We do have people who, through taking part in the Fresh Start New Beginning initiatives, have gone on to find work."
He said it was better for society to offer help and support to prisoners and make sure they were in a position where they were less likely to reoffend.
"We are not saying this is a panacea - the cure for crime - however statistics show that they are less likely to reoffend with the support of such an initiative as Fresh Start," he said.
A previous auction of 90 individual pieces of offenders' art sold and raised £3,000 for the charity.
The next auction is at the Lord Hill Hotel in Shrewsbury on 1 November.