Telford Junior Football League criticised over censored results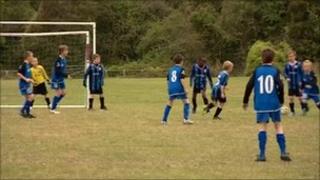 A Shropshire junior football league has been criticised for not publishing results to avoid embarrassing players involved in heavy defeats.
Telford Junior league said regardless of actual scores, it would list games as 1-0, 0-1 or 0-0.
Keith Davies, from the league, said it was following FA guidelines and that it would protect the welfare of players.
But Shropshire FA said clubs should have been consulted and that full results should be reported.
Neil Sambrook, from Shropshire FA, said: "The Telford Junior League, in response to the FA National Youth Review, have piloted a different system of recording results.
"In hindsight this was a decision that should have been taken in consultation with the member clubs of the league and the County Football Association.
"Following a meeting between the League Management Committee and Shropshire FA vice-chairman David Simpson, it has been recommended to the league... the correct scores be reported."
'Should be celebrated'
Mr Davies had said the league was trialling the approach and that it always planned to consult participating clubs in future months.
He added that there were also a number of other options available to the league, such as reporting games as simply wins, draws or losses.
Some clubs have chosen to publish the full results on their own websites.
Steve Madden, chairman of Albrighton Juniors, said it was ridiculous that results were not printed for older players.
"The under-14 or under-15 lads who do well should be celebrated," he said.
And Brian Chambers, of the Wrekin Juniors club, said: "When results are in double figures it does nobody any good to print that.
"But there comes a time when competition is there, and for say 14, 15 and 16-year-olds, they should be printed.
"They go to school with each other and they know about them anyway."
Paul Childs, from Broseley Youth, said the league's decision was a "disgrace".
But Richard Biffin, from Admaston Juniors, said "children's welfare has to come first".
Mr Biffin said: "One young goalkeeper cried after 20 goals and that's not right.
"There comes a time when children have to realise competition matters, but the league's position doesn't bother me.
"Whoever wins still gets the result and the one which wins the most games wins the league."
Telford Junior League represents 200 teams, with almost 3,000 players in categories ranging from under-nines to under-16s.