Shropshire Council staff given new contracts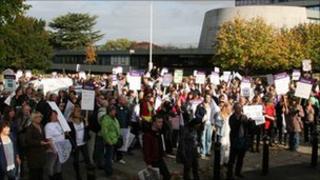 Thousands of Shropshire Council staff have been dismissed and re-hired under new terms and conditions.
About 6,500 people have been affected by the action which the council said would help it save up to £7m by 2013.
Talks are happening between the council and unions over the second phase of cuts. Staff are currently facing a cut of 5.4%, phased over two years.
Last week council Unison members held a 24-hour walkout. The council said it had to save £76m in total by 2014.
Letters were sent to employees during the summer setting out their options, the Conservative-led council said.
Salary cuts
These included being dismissed and immediately rehired on a new contract, accepting changes to their current contracts or leaving the organisation.
The council said 904 people had agreed to be dismissed and re-hired, 710 had voluntarily accepted changes to their working conditions and six people had refused the new terms and were due to leave the authority.
About 6,500 staff did not respond to the letter and were automatically dismissed on Friday and re-hired on Saturday, the council said.
It said anyone earning more than £14,733 per year would receive a pay cut this year amounting to about £400.
The council held negotiations with trade unions Unite, Unison and GMB on Thursday afternoon.
The council said the talks included ways of possibly reducing the 2.7% cut proposed for next year.
'Necessary savings'
Alan James, Shropshire branch secretary of Unison, said: "The discussions have been open and productive.
"We feel these proposals are a step forward for staff, whilst still helping to make the massive savings that the council is required to achieve."
In a joint statement, the Unite and GMB unions said: "The negotiations will continue to focus on year two of the cuts and to a degree we are confident that we can reach an agreement."
Keith Barrow, leader of the council, said: "We have always said we would be flexible about the detail of the new terms and conditions provided they achieve the necessary savings."
Shropshire Council said it had to save £76m by 2014, due to reduced government funding.
Changes to working conditions include a halving of the sick leave entitlement from one year to six months.