Shropshire Council staff hold 24-hour walk-out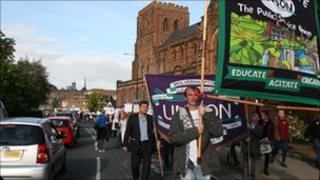 Council workers in Shropshire have held a 24-hour strike over proposals to reduce their pay.
The Conservative-led unitary authority said it needed to save £76m and that by cutting pay by 5.4% it would help it avoid making 500 redundancies.
The union Unison said 45.8% of its 2,100 council members took part in a ballot for industrial action last week and 66% voted in favour of the strike.
The council and Unison said they hoped it would be a one-off action.
Libraries, day centres, highway depots and leisure centres were among the services affected by Thursday's strike.
Both parties said they had held a "productive" meeting on Wednesday, which should remove the need for further industrial action.
In a joint statement issued on Wednesday, both sides said it had been too late to call off Thursday's action but agreed to carry on negotiating.
Further talks are expected to take place next week.
'Room for manoeuvre'
Speaking to almost 500 Unison members outside Shirehall, on Thursday morning, Alan James, the Shropshire branch secretary, said he had been encouraged by the talks.
"I think there is room for manoeuvre. But there is no secret deal, I have signed nothing," he said.
Mr James said the initial 2.7% pay cut had to be accepted, but that he wanted the council to package it in a different way, such as through unpaid leave.
He added the second 2.7% cut, proposed for next year, could still be negotiated.
Social worker Tamsin Waterhouse said: "When you go into these professions, you don't do it to make money. But you do want to have a relatively decent salary in order to cope.
"On a personal level I have a partner with long-term health problems, who doesn't work, so my salary is our only income.
"With everything, I believe I'm going to be £2,700 worse off.
"Food prices have gone up, fuel prices have gone up, it's difficult to see how many people cope."
Some people attending the protest said they were too afraid to speak out, with some departments currently going through a restructuring process.
Shropshire Council leader Keith Barrow said that after Wednesday's talks Unison now accepted that cuts of 2.7% needed to be made but said "how we deliver that is open to debate and conversation".
He said the saving of front-line services was as important to the authority as it was to Unison.
"What I want now is a signed agreement so that we can move forward," he said.