Shrewsbury crash: Five pedestrians injured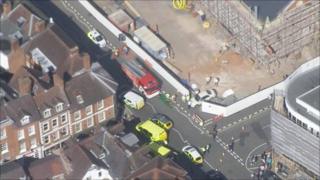 Five pedestrians have been injured by a car which hit hoardings around a building site in Shrewsbury.
Police believe the elderly driver of the Rover car lost control while reversing down Claremont Hill at about 14:00 BST.
The driver of the car, believed to be a man in his 80s, was among those taken to hospital.
Also injured were two teenagers and a seven-year-old boy who was treated for shock and bruising.
Police and ambulance crews attended the scene.
A West Midlands Ambulance Service spokeswoman said: "On arrival crews found a car which had gone through hoardings and into a building site opposite Bellstone.
'Visibly shocked'
"One of the car's doors had been badly damaged in the crash.
"The driver of the car, an elderly man, was visibly shocked. He was taken to Royal Shrewsbury Hospital for further assessment as a precaution."
She said that two pedestrians, a man and a woman, were immobilised with neck collars and spinal boards by ambulance crews and taken to Royal Shrewsbury Hospital.
Two teenage boys were treated at the scene for minor injuries; one suffered a cut to his head and the other had a rib injury.
Both were taken to the same hospital for further assessment and treatment.
The seven-year-old boy was assessed by ambulance staff and left in the care of his mother.
The spokeswoman added: "Fortunately, no one suffered very serious injuries and, given that it happened in a busy street, it was remarkable that more people weren't caught up in the incident."
The area was closed off while the casualties were given first aid and taken to hospital.
Sgt Claire Greenaway said: "We have a number of witnesses but it's important for anyone who saw what happened to contact Shrewsbury police station."