UK Coal say Wrekin protesters 'peacefully' evicted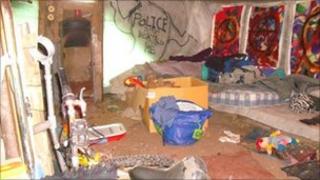 UK Coal has said its operation to evict environmental protesters from a Shropshire site was completed peacefully.
The company said it hoped to complete the clean-up operation, including removing tree houses and closing tunnels, on Monday.
Eight protesters were removed by UK Evict on Friday, with support from West Mercia Police.
The BBC tried to contact the protesters, but received no reply.
West Mercia Police confirmed that there were no arrests at the site during the operation.
Dave Bolton, productions manager for surface mines at UK Coal said: "It's worked out far more efficient for ourselves. We expected a significant number of protesters.
"I understand some had gone to the V Festival (at nearby Weston Park) so it worked out fine for us and more importantly it has been a safe operation."
UK Coal was granted permission in October 2009 to remove 900,000 tonnes of coal from the site near the Wrekin.
Up to 15 campaigners had been on the site at New Works since March 2010.
Mr Bolton said that the company would now start to construct a road through the protest camp to improve access for the mining operation.
Telford and Wrekin councillor Jacqui Seymour, ward member for Wrockwardine, said residents had initially fought plans to mine the site, but were now resigned to seeing it completed.
"It was decided we needed to work with UK Coal... to make sure everything was done properly and they were able to move off the site as soon as possible," she said.