Abuse reports top 300 in Shropshire and Telford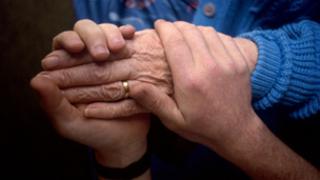 More than 300 reports of abuse by professional carers have been made in Shropshire and Telford and Wrekin in the past year.
Figures obtained by the BBC under a Freedom of Information request show that 192 allegations were made in Telford and Wrekin.
In the rest of the county there were 113 allegations in the past year.
Rose Thompson of the Crown Prosecution Service (CPS) said many alleged crimes would also go unreported.
Fear of repercussions
She said many people were unaware that a crime had been committed and others failed to come forward because they were embarrassed or afraid.
"They fear repercussions, or they may have loyalty to the perpetrator, or they may fear losing some sort of care, or they don't want any trouble," she said.
Ms Thompson said the CPS wanted to encourage people to come forward and report alleged crimes.
"If we don't know about it, we can't do anything about it. It's not only the victims, it's up to their families as well, so that we can robustly prosecute and investigate these cases," she said.
All allegations investigated
Dave Robson is the safeguarding and quality assurance manager at Telford and Wrekin Council.
He said he recognised that there had been a considerable increase in the number of reports of abuse by paid carers in the past few years but it did not represent an upsurge in the incidence of abuse.
"There are sound mechanisms to report concerns that vulnerable people are being ill-treated and we in that period have invested both in publicity and a lot of training regarding the protection of vulnerable adults under the rubric 'No More Secrets'," he said.
He added that he saw a direct link between the new initiatives and the reported increase in the number of safeguarding referrals.
Mr Robson said all allegations were investigated, but did not always result in a court case.
"Far more frequently reports are made about poor professional practice, negligence, failure to follow procedures and inappropriate handling.
"All these are considered to be serious, but we'd make a distinction between them by assessing the actual risk of actual potential harm in each case and then agree on a protection plan on the the basis of that intelligence," he said.
Shropshire Council said in a statement: "We take any allegations of abuse extremely seriously and would like to re-assure people that the safety and wellbeing of those adults in the council's care is absolutely paramount.
"Although the statistics show and increase in the number of allegations in recent years, that is mainly down to people being more aware of abuse and how to report it."