Telford boxer Zak Hammond fights on with colostomy bag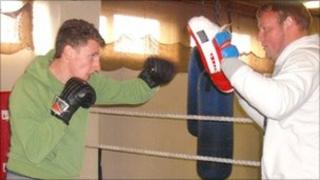 A Shropshire boxer has said his first amateur bout proved far easier than his fight against a chronic illness.
Zak Hammond from Telford surprised boxing bosses in 2010 when he sought medical advice on fighting in the ring with a colostomy bag.
The bag was fitted in 2007 after surgery for Crohn's disease, during which part of his bowel was removed.
The 24-year-old said he had taken up the sport after his weight shot up to 17 stone (108 kg), due to painkillers.
He said: "I came to Donnington boxing gym in January 2010, purely for fitness.
"The drugs, because they were steroid-based, I just ballooned up. I was always around 11 to 11-and-a-half stone, and then went up to 17 stone."
Even fitness training in the gym was a huge step for Mr Hammond, who described surgery as a "last resort" after a year of suffering from Crohn's disease, a painful inflammation of the bowel.
He said: "Some nights I couldn't sleep because the pain was so bad. At the peak I was on 13 tablets a day.
"After surgery I almost had to learn to walk again, because your abdominal muscles are there to help hold you up."
Following weeks of physiotherapy and then gentle fitness training at Donnington gym, Mr Hammond decided he wanted to take the sport further.
"I was watching the boxers doing the sparring. Seeing what goes on at the gym and fight nights, I did want to be part of it."
He said the team at the gym had been very supportive: "Brian Davies, who runs the Donnington boxing gym, contacted the ABA [Amateur Boxing Association] to see what could happen.
"They basically said as long as you get past medical you're fine."
His surgeon at Telford's Princess Royal Hospital also confirmed in a letter to the ABA that the colostomy bag did not prevent Mr Hammond from boxing. He passed the medical without any problems.
Mr Hammond said he had been surprised to discover recently that he was the only boxer in Britain fitted with a colostomy bag.
He described himself as someone "who just gets on with things". But he said he had felt very self-conscious at his first fight in March.
"You've got all these boxers, clean cut, weighing in, nothing wrong with them.
"There's me weighing in, and you're only in your boxer shorts, and there were a few looks. It was a bit weird."
Mr Hammond said he had been amazed at the support during his first fight, which he won on a majority points decision.
Despite it being a "hobby," he said he was looking forward to the next fight as the boxing season gets under way once again.