Shropshire's Street Pastors' first night out in Telford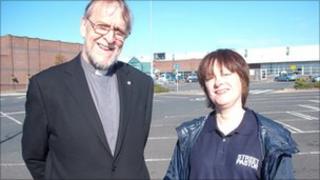 Shropshire's first Street Pastors have said they received a warm welcome on their first night out.
Ten volunteers patrolled Telford town centre on Friday between 2200 and 0100 BST, talking to clubbers and giving out water, lollipops and flip flops.
The first Street Pastor scheme was set up in London in 2003 and there are now more than 100 across the UK.
It costs £300 to train each volunteer and organisers in Telford said they want to expand patrols across the area.
Street Pastor Vicky Braine said they were nervous about their first night out because they had never done anything like it before.
Christian volunteers
However the 50-year-old said they were given a warm welcome.
"[We had a] very friendly reception from the people who work in the night-time economy and from the clubbers and young people themselves."
Street Pastors are Christian volunteers who are trained and CRB checked.
Their role around nightclubs at weekends is to help people who are potentially vulnerable in a non-confrontational way.
Ms Braine said they were given tips by the police, but were not given any specific training in self defence.
She said that it was not their job to preach.
"We're not there to even mention God unless people want us to.
"We are taking Jesus onto the streets, but not in a way that's going to be overt or offensive... we're just there to be of assistance in any way we can."
The scheme in Telford is supported by the Telford and Wrekin Community Safety Partnership, and is the first to start in Shropshire.
The Reverend Keith Osmund-Smith, co-ordinator of the Telford group, said their presence on the street would reduce anti-social behaviour.
The minister hoped more people would volunteer so patrols could be set up in other areas including Wellington, Madeley, Dawley, Ironbridge and even Newport.
Another Street Pastor scheme is being set up in Shrewsbury.