Shrewsbury centre in £150m development plan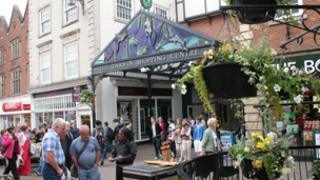 The owners of Shrewsbury's three main shopping malls are planning a £150m redevelopment of the town centre.
Sixty new shops, including a department store and restaurants are part of the scheme which will link the Pride Hill, Darwin and Riverside complexes.
The developers hope it will be completed in time for Christmas 2015.
A public exhibition of the proposals will be held in the Darwin Centre from 14 to 16 July.
Adam Markwell, the director of the Shearer Group which is behind the scheme, said the main area of development would be around the existing Riverside Centre.
"The problem with the town is that you've got these three disconnected shopping centres and all three are rather tired.
Big names
"So the idea will be to redevelop completely the Riverside area and to create a new scheme which links seamlessly into the Darwin and Pride Hill centres," he said.
The company is hoping to attract big name stores and Mr Markwell said the Shearer Group had already had discussions with both Debenhams and Primark.
He is hoping for a good turn out at the public exhibition next month.
"It's important to us that we get the views of the people of Shrewsbury on those plans.
"Members of the development team will be there to discuss the proposals with the public and answer their queries," Mr Markwell said.
He said he hoped to put in a planning application later this year and start work by the summer of 2013.