Funding bid to keep Iron Age mirror in UK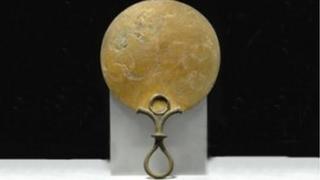 A museum is trying to raise £10,000 in a bid to keep an Iron Age mirror in the UK.
The bronze mirror, dating from the first century BC, is one of only 18 complete ones known to exist.
It was found by a metal detectorist near Didcot and was recently sold to an anonymous bidder from outside the UK.
A temporary export ban has been issued on it so the The Oxfordshire Museum can buy it for £33,000, of which it still needs to raise £10,000.
The mirror is decorated with a highly unusual curvilinear La Tène style pattern and is in very good condition.
The Friends of the Oxfordshire Museum, a registered charity, says £23,000 is being secured through various grants, but has appealed for donations for the remaining £10,000, which it has until 12 September to find.
Carol Anderson, director of the museum, said: "This mirror is a nationally important archaeological artefact as well as an outstanding work of art and piece of craftsmanship."
She said its acquisition would "help us properly reflect the incredible archaeological heritage we enjoy in the county".