'Illegal' Didcot restaurant workers arrested in operation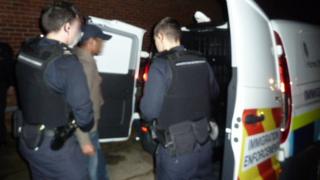 Sixteen suspected illegal workers have been arrested in an operation by Home Office enforcement officers.
Six restaurants and takeaways in Didcot, Oxfordshire - all believed to be owned by the same person - were visited on Thursday evening.
Thirteen of those arrested have been detained pending removal from the UK. Three others have been placed on immigration bail.
They will be removed from the UK if found to have no leave to remain.
Three other men found working illegally at one of the premises in Broadway were not arrested, but must report regularly to the Home Office while their cases are progressed.
Each business visited will face a civil penalty of up to £10,000 per illegal worker found, unless it can provide proof that the correct right-to-work checks were carried out.