Didcot to Oxford rail line to get flood prevention work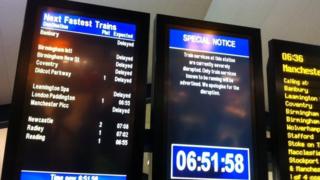 A flood-prone section of a rail line in Oxfordshire will have work carried out on it next year to make it cope better in bad weather, Network Rail said.
Last week the the Hinksey section of the Didcot to Oxford rail line was shut due to flooding, which has happened repeatedly over the last decade.
Last week the government said it would make £31m funding available for 10 rail resilience projects including Hinksey,
Network Rail said it hoped the Hinksey work would start in 2015.
It said the work would involve raising the track over a 500m (1,600ft) stretch to avoid flooding.
It said it hoped the outcome of the £1m project would be "no track flooding" and "no signalling failure" on the Didcot to Oxford line.
However, Network Rail said its proposals are still in the "early planning stages".
Freight route
The Hinksey section of the Didcot to Oxford line lies in the flood plain on the southern border of Oxford.
Oxford City Council's leader Bob Price has been calling for work to be carried out on the track since January.
According to Mr Price, in 2011 Network Rail raised the bridge over the rail track to allow the track to be raised over the flood plain. However, this was never done.
He said: "When it flooded again, we thought we should point out the work still needed to be done."
The line between Oxford and Didcot is planned to be electrified in 2016 and it is hoped it will eventually be linked with Milton Keynes to form an east/west rail link.
The line is also a freight route for containers travelling by train from Southampton to the north, and for BMW Mini, which operates out of Cowley in Oxford.