Oxfordshire free school bus changes approved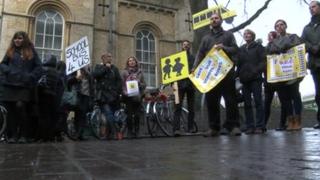 Free school transport in Oxfordshire will be cut back to the statutory minimum from next year.
The county council's cabinet unanimously approved an end to free transport for pupils who do not attend the school closest to where they live.
More than 2,500 people responded to a public consultation on the changes.
The county council says the change will save up to £2m from its budget. Campaigners are considering challenging the decision in a Judicial Review.
Pupils will be entitled to free transport from September 2015 if the nearest school is further than three miles from their home.
"We have to have a clear policy which is fair and equitable to everyone and that can't be challenged," said council leader, Ian Hudspeth.
"We've listened to objectors and talked about their proposals.
"It's a difficult decision to make, but I'm confident our officers have identified the savings and made the right proposals."
Sue Moon from the Oxford School Bus Action Group said: "The proposals are based on the assumption that people won't take up transport to their nearest school.
"The truth of the matter is that if children do go to the nearest school, the council will have to pay for that.
"It's an unfair cut, which will affect people because of where they live, around 3,000 families in predominantly rural areas."
Oxfordshire County Council is seeking to cut more than £260m from its budget by 2018 due to a 40% reduction in central government funding.