Flooded Botley Road in Oxford reopened after clear-up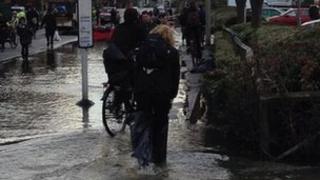 An Oxford road which was closed for five days because of flooding has reopened after a clean-up operation.
Botley Road had been under water since Wednesday. River levels peaked on Friday and have now subsided.
But 13 flood warnings issued by the Environment Agency remain in place across Oxfordshire.
Three flood warnings in place for the River Thames at Kennington, Sandford and Radley, and Buscot Wick down to Shifford have been lifted.
Earlier prayers were said at All Saints Church in Wytham for a man who died after trying to cycle through flood water there on Wednesday.
The man, a 73-year-old from Oxford, died at the John Radcliffe Hospital after getting into difficulty on Godstow Road.
Fire and rescue crews spent the morning cleaning up the Botley Road ahead of the reopening.
Abingdon Road, which has also been flooded, remains shut.