David Cameron visits Oxford flood areas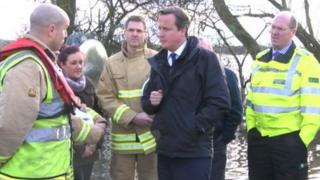 The prime minister has said the government is doing everything it can to help people affected by the floods.
Visiting flood-hit areas of his Oxfordshire constituency, David Cameron praised local authorities for co-ordinating the emergency response.
Mr Cameron also insisted the Environment Agency was "properly resourced" despite departmental cuts.
The agency has warned of the continued danger of flooding along the River Thames.
Speaking at Bablock Hythe caravan park near Witney, the prime minister said: "I think the emergency services have done great work. But there is always more to do and lessons to be learnt and I'll make sure we do that."
Mr Cameron insisted the Environment Agency is "properly resourced", despite MPs raising concerns earlier this week about cuts to the Department for the Environment, Food and Rural Affairs (Defra) budget.
The Defra budget has been cut by £500m since 2010 and the department must find £300m in savings by 2016.
Mr Cameron said: "We're spending £2.3bn on flood defences in this four year period, that's an increase on the £2.1bn spent in the previous period.
"That's good news - the Environment Agency is resourced, properly staffed, the front line is being protected and the money is going into flood defences."
'Year after year'
In Oxford, two main arterial routes, Botley Road and Abingdon Road, remain closed due to flooding, causing traffic jams on other roads.
But there are still warnings that the level of the River Thames is rising in some areas.
More than 20 roads around the county are still closed and there is also severe disruption to train services from Oxford.
John Curtin, the agency's head of incident management, said: "Communities along the River Thames, particularly below Oxford, into Berkshire and through Surrey, need to remain vigilant for further flooding.
"River levels on the Thames are high and will continue to rise for the next few days and we urge people to keep up to date with the latest flood warnings and take action.
"With so much standing water around, we would also remind people to stay out of flood water and not attempt to walk or drive through it."
Convenience shop owner Mohammad Afzal said he was losing £2,000 each day as flood waters prevented access to his premises on Abingdon Road.
"It's affecting deliveries, customers can't get here. I can't describe how angry I feel - we're going through this year after year."
On Thursday, residents were evacuated from their homes in the city as authorities struggled to hold back rising waters.
About 20 people, including a woman in her 90s, fled a block of flats in Binsey Lane, Botley, as water overtopped barriers.
Pumps were used to divert water from 100 homes into fields.
A reception centre was set up at Blackbird Leys Leisure Centre to help people find alternative accommodation.
The council has issued almost 10,000 sandbags.
On Wednesday, a 73-year-old cyclist died after going into flood water in Godstow Road, Wytham.
The man was airlifted to the John Radcliffe Hospital in Oxford in a serious condition but he was later pronounced dead. He is the eighth person to die in bad weather since 23 December.