Oxford greyhound stadium homes plan set for refusal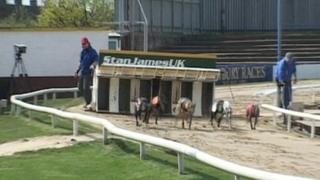 Plans to demolish Oxford greyhound stadium and build 220 homes would cause "severe harm" to the community, a council report has concluded.
The track shut down in 2012 after owners Greyhound Racing Association said it was no longer viable.
A planning proposal went in to demolish all existing buildings, some of which housed community groups.
But the application, to be decided by councillors on Wednesday, has been recommended for refusal.
It lists a number of reasons, including the scheme's 35% affordable housing provision being too low and poor home design.
The report stated: "The proposed demolition would result in the loss of a community facility and heritage asset of local significance that provided a range of much-loved pastimes and that is capable of continuing to provide those pastimes again.
'Unworkable'
"[This] would result in severe harm to the wellbeing, community cohesion, social interaction and social inclusion of the wider Oxford community. The application is not acceptable and refusal is recommended."
The homes would ease the city's housing demands but they are not required to meet Oxford's five-year and 10-year targets, the report added.
Gavin Beckley, of campaign group Save Our Stadium, said the plan was "unworkable" and feared a planning "impasse" if it was refused.
"[The report] sends a very clear message but I don't think it will change their mind.
"The stadium still stands, it would take some capital investment... but you could get it up and running again."
The BBC has asked Greyhound Racing Association and developers Galliard Homes to comment.