Banbury retail fashion park will get £80m funding from Crown Estate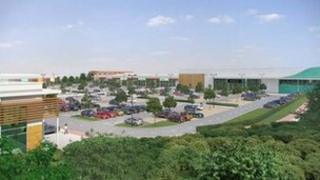 The Crown Estate has announced £80m funding for a new retail fashion park in Oxfordshire.
Development can start on Banbury Gateway after a High Court judge rejected a judicial review last week.
Barry Whitehouse from Banbury Old Town Association said he was "disappointed" by the news, and said it would drive out town centre trade.
Marks & Spencer and Next will be core tenants at the park, which has been bought from LXB Retail Properties.
The Crown Estate is a property portfolio owned by the sovereign, which pays profits to the Treasury.
A spokesman for the Crown Estate said the new retail park would create between 800 and 1,000 jobs.
It has also announced selling Zenith Industrial Estate in Basildon for £19m to the property fund manager Cordea Savills and Cabot Park in Avonmouth to the Blackrock UK Property Fund and Canmoor for £31m.
The Banbury Gateway site in Acorn Way, Banbury, was formerly the headquarters of motorsport company Prodrive.