Jayden Parkinson: Memorial service for teenager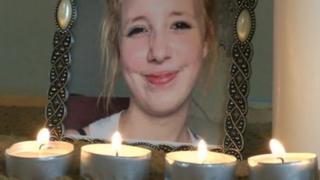 A special remembrance service has been held for teenager Jayden Parkinson.
The 17-year-old's remains were discovered in a disturbed grave in the cemetery of All Saints' Church, Didcot, Oxfordshire on Wednesday.
The church, which has opened a book of condolence, held the special service at 19:00 GMT on Saturday.
Reverend Karen Beck said: "It's a very dark time when you have something like this happen, people can feel very low and despairing."
More than 100 officers and detectives spent much of the past week carrying out intensive forensic searches at several sites in and around Didcot and the nearby village of Upton in a bid to find Jayden.
Family's thanks
Following the discovery, Jayden's mother, Samantha Shrewsbury, took to Twitter to pay tribute to her daughter.
"As you know Jayden has been found our family would like to thank those for all your support and kind words xx," she wrote.
"My Beautiful Baby Girl Love You Now And Forever xxxxxxxxxxxx."
A post-mortem examination has not yet established how Jayden died.
Her ex-boyfriend, 22-year-old Ben Blakeley from Reading, has been charged with her murder.
A 17-year-old boy from Didcot, who has been charged with perverting the course of justice, has also appeared in court and is due back on 17 March.
He is accused of assisting in the disposal of Jayden's body and other evidence.