Meadow Farm opens to public following appeal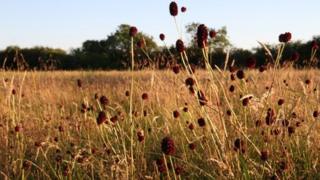 A "precious" meadow on the Oxfordshire and Buckinghamshire border will open to the public after more than £1m was raised to save it.
Meadow Farm, near Blackthorn, will open in 2014, following a £758,000 grant to the Berks, Bucks & Oxon Wildlife Trust (BBOWT) from the Heritage Lottery Fund.
A further £270,000 was raised by 2,000 donors following a trust appeal.
Stuart McLeod, head of the Heritage Lottery Fund South East England, called it an "oasis of biodiversity".
"This area of flower meadow that has lain undisturbed for centuries can now be fully protected while providing a valuable learning resource," he said.
'Irreplaceable habitats'
BBOWT chief executive Philippa Lyons said: "I am very grateful to everyone who gave so generously... they have secured the future for Meadow Farm as a very special wildlife haven for local people to enjoy forever.
"Meadow Farm has irreplaceable wildlife habitats that are vital for insects, butterflies and wetland birds such as the curlew.
"Otters are known to be using the River Ray along the northern boundary and the overgrown hedgerows are superb habitats for the rare black and brown hairstreak butterflies."
The meadow was bought with a grant from the Esmee Fairbairn Foundation last year.
BBOWT then had to raise enough money to buy it back to stop it going on the open market.