Oxford Green Party calls to scrap right to buy in city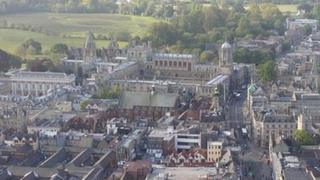 The right to buy scheme should be scrapped in Oxford to reduce the city's housing crisis, a councillor has said.
The Green Party's Sam Hollick said the scheme - which lets council tenants buy their homes - had depleted the city's stock by 23 houses in 2013 so far.
Labour councillor Scott Seamons called the Green idea "hopelessly naive".
He added the council recently gave permission to build more than 600 affordable homes, and that building was the key to solving the shortage.
'Useless letter-writing exercise'
Mr Hollick said while 23 houses did not seem much to fight for, there were 62 people on the 4,522-long housing register who were in the top priority band for urgent housing.
His motion at a meeting on Monday night called to scrap right to buy in Oxford via the Sustainable Communities Act, which gives local authorities powers to challenge central legislation.
Mr Seamons, an Oxford City Council board member for housing, agreed that right to buy had "had a long term negative effect on the city's communities and our ability to provide affordable housing".
Under the coalition government's extended Right to Buy programme, launched last year, tenants get discounts of up to £75,000 to buy their homes.
Mr Seamons said this had led to an increase of council home sales from three in 2010-2011 to 23 so far in 2012-13, with a projected 40 sales for the full financial year.
He added that the government was "wedded" to the scheme and he held "little or no hope" this would change.
"Organising the kind of consultation that Councillor Hollick's motion called for would not be a wise use of council staff time or tenants' money," he said.
He cited an expensive private rental market, unattractively high mortgages and the "tightly drawn greenbelt around the city" as some of the reasons for the high social housing need in Oxford.
Following Mr Hollick's motion, the Labour-run city council agreed to write to the Minister for Housing Kris Hopkins about Oxford's situation.
But Mr Hollick called this "a useless letter-writing exercise".
Since September, only people with a "local link" to Oxford and savings of less than £16,000 have been able to register for the city's social housing.