Scrap metal dealers Simon Rogers and Martin Pace sentenced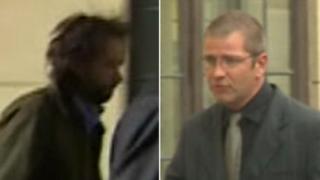 Two scrap metal dealers have been fined for knowingly buying stolen property from undercover police officers.
Simon Rogers and Martin Pace were convicted following an eight-week trial at Oxford Crown Court.
Both worked at T R Rogers & Sons in Nuneham Courtenay, Oxfordshire and were arrested in May last year. Three other employees also charged were acquitted.
The court heard the pair were sentenced on the basis of their attempts to profit from criminal property.
During the trial, the jury heard two undercover police officers visited the yard on nine occasions between March and May last year.
'Builder's banter'
Known as "Andy" and "Kinger", the officers would talk about how they had had "no sleep" after spending the night stealing copper power cables and phone cables, as well as lead from a church roof.
Rogers and Pace were each found guilty of one charge of concealing, disguising or converting stolen property.
Sentencing the men, Judge Ian Pringle said he understood the long-term damage to Rogers' business "had been a great burden to bear". The fact he had accepted goods from undercover officers had played a mitigating part.
The 43-year-old, of Bromsgrove, Faringdon, was fined £1,500 and was ordered to pay £1,500 costs and a £150 victim surcharge.
Judge Pringle went on to describe Pace as a "hardworking decent man", who he was sad to see before him in court.
He said: "You knew you were buying stolen metal, indicating 'from the off' that you wished the officers had not told you how they had come by the stolen material.
"Your claim this was 'builder's banter' was completely rejected by the jury."
Pace, 36, of Abbott Road, Didcot, was fined £250 and ordered to pay a £25 victim surcharge.