Henley Festival to stay put on Regatta site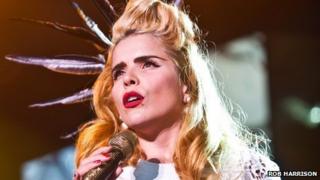 The Henley Festival is to stay on its original site despite a previous decision to move to save costs.
The event which this year had The Beach Boys, Jamie Cullum and Madness among the headliners has used the Royal Regatta site for the past 30 years.
But a decision was made to move to a cheaper site further along the River Thames because of failing profits.
Following concerns from the community a new rent deal has been reached between the festival and regatta committees.
Lost profits
Festival director Stewart Collins said: "We're delighted both sides have come to an agreement.
"There was a strong feeling from our supporters that the site should remain in the same place - many were feeling terribly sad at the prospect of it moving to another location."
Mr Collins had announced in May the five-day festival on the Oxfordshire-Berkshire border would relocate to the Henley Business School site three miles up the road, as it cost a quarter of the rent.
Despite big-name headliners the July festival had failed to make a profit this year, losing around £50,000 in unsold tickets.
The Board of the Henley Festival said it had now reached an agreement with the the Committee of Henley Royal Regatta which would "allow the festival to stay at the regatta site in Henley for the foreseeable future".