Cutteslowe Park top pavilion unveiled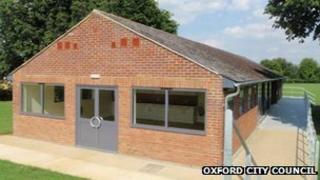 The first pavilion to be completed in a £3.1m project to refurbish Oxfordshire's sports facilities has been unveiled.
The new £300,000 top pavilion at Cutteslowe Park is owned by Oxford City Council and home to Wolvercote Cricket Club and North Oxford Football Club.
The council wants to encourage more residents to take part in sports with a "good supply" of accessible facilities.
The programme to modernise 12 pavilions is due to be completed by summer 2016.
Cutteslowe Park top pavilion now has renovated changing rooms, new windows and doors, and five new public toilets.
Mark Lygo, board member for parks, sports and events, said: "I hope the high standard of facilities we can now offer will help local teams to increase the number of players and see them improve in their respective leagues."