Oxfordshire councils' cash still tied up in Icelandic banks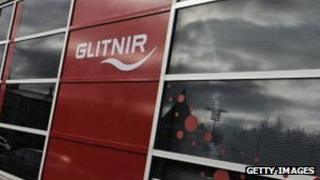 About £7m of Oxfordshire's public money is still tied up in Icelandic banks almost five years after they collapsed.
The county's six main authorities, including Oxfordshire County Council, made a total investment of about £28m.
Thames Valley Police and Crime Commissioner's office is also owed £2.5m of a £5m investment made by the now defunct police authority.
Chartered Institute of Public Finance and Accounting said most of the cash would be repaid by 2019.
The news comes as local authorities face continued budget pressures, including Oxfordshire County Council, which aims to make savings of £74m by 2017.
The local authority is facing an expected budget deficit of £25m and last week released plans to generate revenue in a bid to reduce the shortfall. These include new bus lane fines and renting out a council chamber for weddings.
Originally the county council invested £5m in Icelandic banks, including Landsbanki, and is still owed £2.6m.
In a statement it said: "All councils hold cash reserves earmarked for big projects such as schools and roads, and it makes sense to invest that money to get a return.
"The council has checks and balances to make sure that public money is only invested in solid financial institutions, and at the time of making the investments the Icelandic Banks were rated as sound."
'Flowing back'
When the Icelandic banks collapsed in October 2008 they took nearly £1bn of investments from over 100 authorities.
West Oxfordshire District Council was owed a total of £9m from its investments at Kaupthing Singer and Friedlander, Landsbanki and Glitnir, and is still waiting for £2.3m.
Cherwell District Council had £6.5m invested with Glitnir and is owed £700,000.
Oxford City Council had a total of £4.2m invested at Heritable and Glitnir banks and is now owed £700,000.
Vale of White Horse District Council said it was still awaiting about £500,000 of the £1m it invested in Icelandic banks, while South Oxfordshire District Council, which invested £2.5m, is also owed £500,000.
Mandy Bretherton from the Chartered Institute of Public Finance and Accounting said local government associations were "working very hard" with creditor bodies to retrieve the cash, which she said was now "flowing back" from the banks.
"I think these things do take time and also the legal cases have been subject to a number of appeals," she added.
Ms Bretherton said the collapsed banks, Landsbanki and Glitnir, had been "taking longer to go through the process", but investors were expected to get all of their money back.
However, she said they may have to wait until 2019 for the final 5-6% from Landsbanki.
She added it was hoped investors in UK-based banks, Heritable and Kaupthing Singer and Friedlander, would see an 85-90% return by about the middle of next year.