Burger van near Cheney School gets frying curfew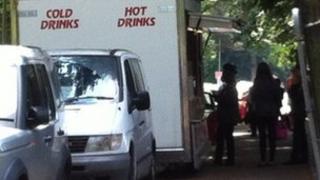 A fast food seller, who operates near a school, has been ordered not to sell fried food and fizzy drinks when pupils are around.
Oxford City Council held a licensing hearing after receiving 23 complaints about the van in Warneford Lane, Headington, near Cheney School.
The van's owner, Mehmet Yilmaz, is now unable to sell fried food and fizzy drinks before 16:00 BST.
The restriction comes into force on 1 September, before the start of term.
Councillor Mary Clarkson said: "Mr Yilmaz has gone some way to meet the concerns of the school and parents by serving healthier food during the day.
"Cheney School ends at 3pm so most pupils will be away from the site well before 4pm."
The school could not be contacted for comment.
In April the hot food van was given permission to operate from the road for a year.