Woodcote Rally celebrates 50th anniversary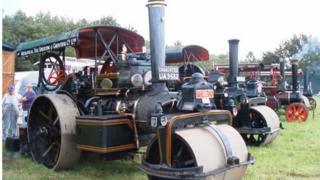 A vintage vehicle festival in Oxfordshire that was cancelled last year because of a waterlogged field, has celebrated its 50th anniversary.
The 2013 Woodcote Rally included Battle of Britain flypasts as well as hundreds of vintage cars.
Spokesman Andy Crockett said: "It's very exciting considering the weather is so much better than last year when the ground was absolutely sodden."
The rally regularly attracts 20,000 visitors and has been held since 1964.
About 600 vintage cars, tractors and motorbikes, and 40 steam traction engines, were on display at the field off the A4074 Reading to Oxford road.
'A quagmire'
The air show featured World War II aircraft such as the Lancaster, Spitfire and Hurricane.
The 2011 event raised a record £23,500 for local charities and groups.
Organisers described the site as a "quagmire" after the July 2012 event was cancelled because of bad weather.
They had hoped to re-stage it in September but later said there was "insufficient resources available".
It said £10,000 had to be raised to meet the cost of the cancellation.