Oxford strip club The Lodge loses High Court licence appeal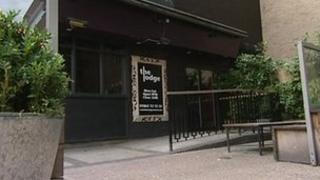 Oxford's only lap-dancing club has lost a High Court appeal to have its sexual entertainment licence renewed.
The Lodge Gentlemen's Club in Oxpens Road was refused a licence by the city council in October, which said it was inappropriate for the area.
The club had moved to alternative premises in 2011 after previously being denied a licence to operate next to St Ebbe's Church in Pennyfarthing Place.
Its owner now plans to take the matter to the Court of Appeal.
Alistair Thompson said: "We are shocked and very disappointed with the judgment.
'Irrelevant and inaccurate'
"It has huge implications, not just on our business, but for the night time industry as a whole.
"Our legal team advise us we have a very strong case to take forward an appeal."
The club had challenged the reasons the council gave for refusing the licence and also argued "irrelevant and inaccurate factors" were taken into account when considering the area's character.
Mr Justice Haddon-Cave, sitting in the administrative court of the High Court, dismissed both grounds made for the appeal along with a third factor of apparent bias by a member of Oxford City Council's licensing registration sub-committee.
Councillor Bob Price, council leader, said: "We are pleased the decision of the panel was upheld, which was based on the careful application of the criteria agreed by the council in 2010 to define suitable locations for sex entertainment venues.
"This judgement confirms clearly that if councillors act reasonably, and in line with agreed policy, their decisions will be valid."
The council's criteria for areas considered inappropriate for sexual entertainment licences included parts of the city near historic buildings or tourist attractions, schools and play areas.