Oxford natural history museum specimens on display in town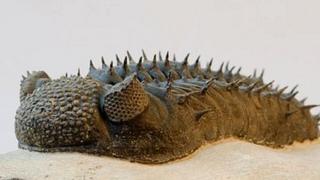 A dodo and a dinosaur are among the specimens installed at a range of Oxford city centre venues while their museum is being renovated.
The 12 specimens from the Oxford University Museum of Natural History also form part of an information website called Goes To Town.
A bank is hosting a Bank Vole, a fishmongers features a King Penguin, and a bookshop has a 'Bookworm' grub.
The museum called it "a playful response" to its closure during 2013.
The specimens will be in their new homes for six months while maintenance is carried out on the museum's 150-year-old glass roof.
The website offers a virtual and actual trail to view the specimens as well as audio guides from museum staff and university scientists.
The Utahraptor dinosaur and the Dodo are models but all the other specimens are real.
A museum spokesman said: "The initiative brings the museum to the town while the town is unable to come to the museum".
The museum will reopen in February 2014.