Oxfordshire hospitals trust parking fee rise criticised
30 June 2013

From the section

Oxford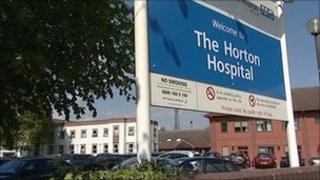 A rise in parking charges at four Oxfordshire hospitals has been criticised by a health watchdog.
Fees at the Nuffield Orthopaedic Centre, John Radcliffe and Churchill hospitals in Oxford and Horton General in Banbury will rise from Monday.
Oxford University Hospitals NHS Trust has defended the increase - its first for seven years - and said surplus cash would be reinvested in patient care.
But Healthwatch Oxford said it was "disappointed" by the decision.
The changes mean drivers will be able to park for up to 30 minutes free of charge at all four sites.
Patients and visitors will be charged a flat rate of £7 for parking over four hours.
But drivers will be charged £1.40 instead of £1 to park for between 30 minutes and an hour at the John Radcliffe and Churchill hospitals - a 40% increase.
The cost of parking for between three and four hours at either site will rise from £3 to £5.60 - an increase of 87%.
Rosalind Pearce, director of independent health watchdog Healthwatch Oxfordshire, said: "It's really disappointing.
"We will monitor the situation regarding the impact on patients."
Estate director Mark Trumper said the trust had avoided increasing parking fees for "as long as is practicable."
He added: "We do not want to use funds that should be otherwise spent on providing healthcare for patients, so car parking has to be self-funding, and any surplus made is reinvested back into patient care."
Parking concessions available to some patients who attend on a regular basis and families of very ill patients in critical, intensive or the paediatric intensive care units will continue.
However the hospitals trust has said it will apply a "below inflation" increase.