Janee Parsons death: Andrew Parsons 'lost control'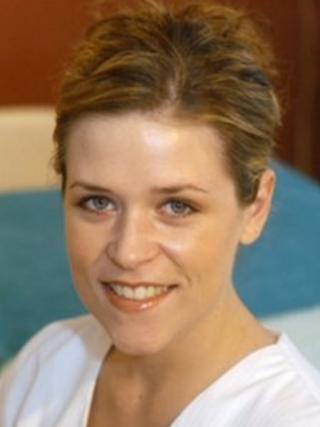 A man accused of stabbing his adulterous wife to death has told a court he "lost control" after she cut him with a knife during an argument.
Andrew Parsons, 38, is accused of killing US-born Janee Parsons, 31, in the home they shared in Bicester, Oxfordshire, on 1 December.
Mr Parsons denies murder and told Oxford Crown Court he could not remember anything after disarming her.
Mrs Parsons was getting ready for a weekend away with her new boyfriend.
The attack took place in front of the Parsons' young son with the sound captured on a dictation machine left under a bed by the defendant to spy on his wife's conversations, the court heard.
'Crouching with knife'
Mr Parsons told the court he fought back against his wife for "the first time" after she hit him with her phone during a row.
He punched her in the mouth causing it to bleed, but then went to fetch a towel to see to her wound.
He then saw her with a knife that he had been using to cut open boxes and retaliated.
He told defence counsel David Hislop QC: "Janee was semi-crouched down against the bedroom door. She had a knife in her hand.
"I could see the knife. I just went to disarm her. I lunged towards her from the top of the stairs.
"She swung the knife towards me and cut me on the hand."
He "completely lost control", he said, adding: "I just lost it. I don't know what I did or said."
The prosecution alleges Mr Parsons stabbed his wife more than a dozen times at their home in Lucerne Avenue.
Under cross-examination Miranda Moore QC asked him why he did not tell police his wife had cut him with the knife, calling it "a convenient get-out".
Las Vegas
The attack took place two weeks after Mrs Parsons came clean to her husband about the affair.
"She was honest with you and you couldn't take it," Ms Moore said, which Mr Parsons denied.
The Parsons married in Las Vegas in 2004 and lived in the US before moving to England.
Mrs Parsons met another man in October 2012, and a few weeks later told her husband she wanted to separate.
Mr Parsons told the court the couple slept in separate rooms afterwards but he hoped they might get back together.
They slept in the same bed a few days before her death, and he bought her a dress that she planned to wear on a night out, he added.
The trial continues.