Police chief 'sorry' over Oxford grooming case delays
15 May 2013

From the section

Oxford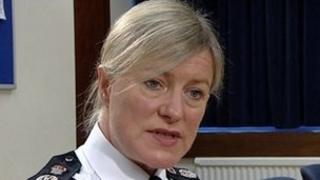 The chief constable of Thames Valley Police has apologised for the delay in securing convictions against seven men who abused girls between 2004 and 2012.
Sara Thornton admitted that, despite complaints from victims, a joint investigation did not begin until 2011.
In one case in 2006, a 14-year-old told police she was one of a number of child victims but no action was taken after she withdrew her complaint.
Ms Thornton dismissed suggestions she should resign over the failings.
Speaking earlier on BBC Radio 4's Today programme, she said: "We were responding to each case individually. Nobody sat down and put the picture together.
"I don't think we understood the extent that the abuse was systematic and it was organised.
"It was only when we sat down and pooled our information with the social workers that we began to piece together the picture that explained what was happening in terms of this criminal network in Oxford."
Thames Valley Police has since set up Kingfisher, a specialist unit to deal with such cases, and Ms Thornton said there were "many investigations ongoing".
'Case abandoned'
She defended the force's actions at the time of the complaints, saying girls had been so brainwashed, they were reluctant to give evidence.
She said: "On some times the men were arrested and some times they were charged and the case was discontinued.
"One case even went to court and it was so difficult for the victim to give evidence the case had to be abandoned because she was so distressed.
"What happened in 2011 was that we put together a joint investigation with police officers sitting side by side with social workers, putting together the intelligence picture, looking at what was, in fact, an organised network of criminals.
"When we got a picture of what was going on, we then went to the victims and spent a lot of time building their confidence and building their trust so they were not only able to give statements but also give evidence in the way they did at the Old Bailey."
When asked if she would consider resigning over her force's failings, she said: "I accept responsibility and, as I've said, I am very sorry that it took so long to take this case to court but the focus has got to be on moving forward.
"We've got joint working with the county council, we've raised the awareness of our officers and we've put more officers in this important area of child protection."
Children's charity Barnardo's said a survey of its specialist services in England and Wales showed 15 out of 56 known police investigations in 2012 had so far resulted in prosecutions.
Chief executive Anne Marie Carrie said: "Our services know all too well the difficulties involved in getting cases of child sexual exploitation to court but these shocking statistics starkly demonstrate just how hard it is.
"From talking to sexually exploited children around the country, I know the courage it takes to seek a prosecution.
"If we want victims to have confidence in the law, it is vital that justice is done and that we work together to bring about more successful prosecutions for these crimes."