Banbury building demolished in conservation area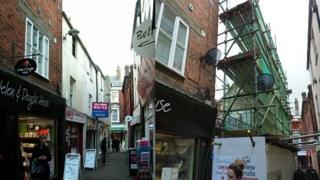 The demolition of a building within a market town's conservation area is being investigated by a local authority.
Only the rear wall of a former theatre in Church Lane, Banbury, Oxfordshire, remains following works at the site.
Cherwell District Council said the maximum penalty for destroying the building could be a £20,000 fine and six months imprisonment.
Banbury Civic Society called it a "great loss".
New Recruitment Ltd was granted planning permission to convert the former theatre in 2009 but it has since gone into administration.
The planning permission expired in January 2012.
It aimed to convert two retail units into one, and build five flats on a new third storey.
Another company, New Recruits Professional Services, has confirmed it was based at the site prior to the demolition but declined to comment further.
Rob Kinchin-Smith, chairman of the Banbury Civic Society, said: "These works have happened in a complete planning vacuum and we would like the elevation of that building back as it was.
"It's rather distressing. Banbury is trying to market its old town and can't afford to lose its charming Georgian buildings which have character and history.
"It was on the key pedestrian shopping street and now it's gone."
'Bawdy thesps'
Tony Ecclestone, from the district council, said: "A planning officer visited the site on 30 April following complaints from neighbouring occupiers about the works taking place at the site.
"During this visit it was established that all floors and the roof along with front elevation had been removed.
"Following the visit to the site the matter was referred to the Planning Enforcement Team who are now dealing with this matter and investigating a criminal offence under Section 9 of the Planning (Listed Buildings and Conservation Areas) Act 1990 for the demolition of a building in a conservation area without the required consent."
The building is thought to have once been the town's only theatre.
Mr Kinchin-Smith said: "It was built in the early years of the 19th Century and rather provocatively opened across from what was the Methodist chapel.
"The bawdy thesps were at one end and the Methodists at the other."