Oxford Hindus gather for Holi celebrations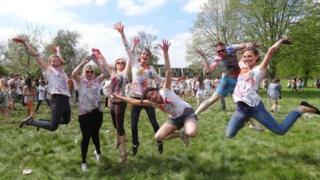 Oxford was sea of colour when thousands gathered to celebrate the Hindu festival of Holi.
OxHoli is one of the city's largest cultural events and celebrates the beginning of spring.
Holi translates as 'colour' in Hindi and the event is traditionally marked by revellers covering each other in water and coloured powder.
The event at Merton College Sports Ground was organised by the Oxford University Hindu Society.
Society president Suriya Prabhakar said: "There's essentially a massive water fight later in the day where people can put the paint in water guns or water bottles or just smear it over each other.
"As well as the colours, the religious significance behind why Hindus celebrate Holi remains extremely important.
"Many non-Hindus also celebrate it around the world today as it's becoming a symbol of fun, where social boundaries are loosened."