Oxford's The Kidneys Jubilee flower meadow for bees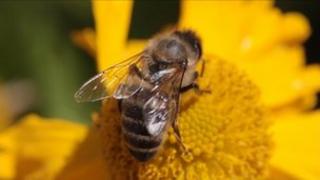 A wildflower meadow to mark the Queen's Diamond Jubilee last year has been created in Oxford in an attempt to attract more bees to the area.
The 100 sq m (1,100 sq ft) site at The Kidneys is one of 60 so-called "bee worlds" being created in the UK until the end of May.
Oxford City Council created the meadow with charity Friends of the Earth as part of its Bee Cause campaign.
British wildflowers have been planted including cow slips and yellow rattle.
Bee threats
Fiona Tavner, from Oxford Friends of the Earth, said the meadow would help to create "vital food for threatened local pollinating insects".
Ivan Wright, the county bee recorder, said there were over 100 species of bee in Oxfordshire, which compares to more than 260 across Britain.
He recorded 20 different species in 2011 at Aston's Eyott, near the River Thames, which borders the site of the new meadow.
He said the main cause of decline in wild bees, such as mining and mason species, was loss of habitat due to a variety of reasons including urban development.
Bee worlds have already been created in areas including Bridport in Dorset, Stratford-upon-Avon in Warwickshire and Hull in East Yorkshire.