Oxford Food Bank set to lose premises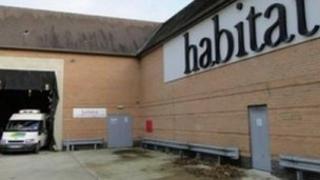 Oxford's food bank is set to lose its premises and may have to find temporary accommodation.
The charity uses an empty warehouse at the Seacourt Tower Retail Park rent-free under an agreement that it would move out if the site was redeveloped.
A planning application has now been submitted meaning the service may only have weeks left before having to find somewhere else.
Volunteers help provide up to 5,000 meals a week to those in food poverty.
David Cairns, co-founder of the service, said: "We are very grateful we have had this basically rent-free for seven or eight months and was under no illusions we would have to move.
"In theory, it could be as little as a week. We have a couple of people prepared to let us use their base temporarily if it comes to that.
"Obviously if someone wants to give it to us rent-free we would be more than happy, but we are aware at some stage we may have to pay for premises and we have saved up some funds for this."