Local elections: Potholes one of the key issues for voters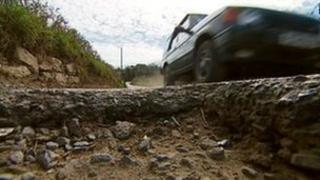 The repair of potholes is one of the key issues in Oxfordshire ahead of the all important vote in the county council elections on Thursday.
Candidates said it was a subject they have come across time and time again when canvassing on the doorstep.
The problem became so severe that the Conservative-controlled county council launched an online reporting service asking residents to snap potholes on their mobile phones.
Tory leader Ian Hudspeth said the issue "is something we are working on but after three bad winters, the weather has taken the toll on the roads".
"This is a national issue not just Oxfordshire. Last year we repaired nearly 39,000 potholes so we are working to keep the traffic moving.
"We have just announced an additional £3.5m of capital work to be carried out in this financial year but more funding is needed."
'Years of neglect'
Oxfordshire's Labour leader Liz Brighouse said her party would consider changing the current repair system by setting up "a not for profit organisation to do the work", as this might be more cost-effective.
The party would review the work of contractors to see if the current system was value for money, she said.
There was also a need to work alongside utility companies when they dig up the road, as their road repairs were "often not sustainable", she said.
Liberal Democrat group leader Zoé Patrick claimed potholes were not being repaired despite being reported by residents and marked with red paint to indicate urgency.
"Issues on top of people's minds on the doorstep include the very poor road maintenance which is not being tackled by the county council," she said.
"Several residents are putting in claims for compensation for damage to their vehicles and even these claims are not being dealt with in a timely manner."
Green Party leader Larry Sanders said: "For the first time in about 12 years of campaigning the frequency of this [pothole] issue has gone down.
He said: "That is because the worst road in our area, Iffley Road, was properly renewed following many years of campaigning by the local city council Green Councillors."
He said there had been "at least twelve years of neglect" in road maintenance, adding the Greens had earmarked £4m in their proposed budget in February for road repairs.