Oxford's Osney Lock hydroelectric plant cash total raised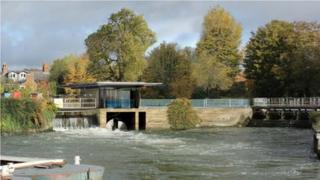 A community group has raised enough cash to build a small hydroelectric plant ten days after offering shares in the project.
Osney Lock Hydro (OLH) has planning permission for a water turbine on the River Thames at Osney Lock.
It needed to raise £250,000 by 7 May to coincide with renovations by the Environment Agency in the summer.
A share offering has so far raised £320,000 with investors offered an annual return of 4%.
Saskya Huggins, an OLH volunteer, said the response had been "phenomenal".
"Seventy five percent of the investment to date has come from within the city of Oxford, and half of all investment is from people living within a mile of the hydro site," she said.
'Fantastic initiative'
In total, 92% of investment has come from within the Oxfordshire area.
Quentin Sattentau, an Osney Island resident who has invested in the scheme, said: "It is a fantastic community initiative and sends out a wonderful message about sustainable living in the 21st Century."
The plant, which has been 12 years in the planning, is expected to generate 165,500kwh of electricity per year - the amount to power the equivalent of more than 50 homes - with most of it being sold to the Environment Agency.
Investors can put in between £500 to £20,000 for 20 years, although funds can be withdrawn earlier if agreed.
Any extra money raised by the scheme will be reinvested in community projects to reduce carbon emissions, OLH said.
The group hopes the fund will total £2m over a 40-year period.
The project has also been supported by Low Carbon Hub, which helps community groups across Oxfordshire develop renewable energy and energy reduction projects.