Margaret Thatcher's Oxford University college screens funeral
17 April 2013

From the section

Oxford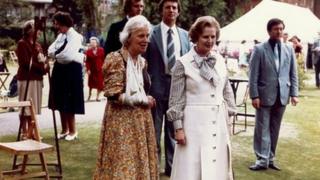 Margaret Thatcher's former Oxford University college has screened her funeral in front of students, academics and alumni.
Somerville hosted the private event while the college's principal Dr Alice Prochaska and two current students attended the ceremony in London.
The college said it had always enjoyed a "warm relationship" with the former prime minister, who graduated in 1947.
It will hold a memorial event for Lady Thatcher in a few months.
Oxford University infamously refused her an honorary degree in 1985 in an academic-led protest against the government's cuts in funding for education.
'Determined young woman'
It made Lady Thatcher the first Oxford-educated post-war prime minister to be denied the honour.
But in contrast, Somerville had already made her an honorary fellow in 1970, and had since created scholarships in her name, and opened a Margaret Thatcher conference centre in 1991.
Dr Benjamin Thompson, fellow and tutor in history at Somerville, said: "We are very proud of Margaret Thatcher whatever our politics.
"She became prime minister on the 100th anniversary of the college's foundation, the college was founded to educate women and having a female prime minister was breaking through the highest of glass ceilings.
"The college is very keen on its role models."
Zoe Fannon, one of the students who accompanied Dr Prochaska, said: "When I think of Baroness Thatcher as a fellow Somervillian, I imagine the determined young woman that she was, perhaps sitting across from me at dinner in hall.
"Although we might well have disagreed, I think that I would have enjoyed talking to her."
In an open letter to Somerville in 1980, Margaret Thatcher expressed her fondness for her college years.
She acknowledged the contribution of her education to her political success, writing that "the harvest gathered from those years has been rich indeed".
The college is developing plans to set up more scholarships in the name of Lady Thatcher, who relied on financial support as a student herself.