Crunchy's Rescue conditions 'among worst RSPCA has seen'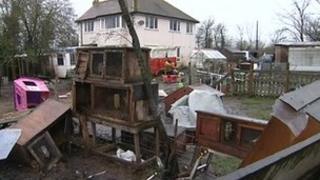 Conditions at an animal rescue centre in Oxfordshire were some of the worst the RSPCA had seen, a court has heard.
Seven members of the same family are in court over charges of animal cruelty at Crunchy's Rescue in Longworth.
Angela Russell, 44, her brother Peter 40, her father Frederick, 80, and her children, Robert, 24, Louise, 22, and Kirsty, 20, deny the charges.
Her niece Abigail McHugh, 19, of Swindon, and Daniel Bunyan, 23, of Abingdon, also deny the charges.
Jonathan Coode, prosecuting for the RSPCA at Bicester Magistrates' Court, said conditions at the centre were worse than "most of the witnesses have ever experienced".
'Dead horse'
The police assisted the RSPCA with a three-day operation in January 2012 and removed 29 dogs, 13 horses and a number of chickens, goats, cats, ducks and a cockerel from the rescue centre, where the family lives.
Officers found a dead horse and rabbit. A post-mortem examination found that the horse had pieces of rubbish in its stomach.
Injured dogs were living around piles of their own faeces, and dozens more animals were also suffering, the court heard.
The court was also shown footage of animals in poor health living in broken cages.
About 80 animals were removed in total. Most have since been re-homed.
The defendants face more than 100 charges relating to animal neglect.
The rescue centre was set up by the family in 2006.
The trial continues.