D-Day veteran returns to Normandy thanks to lottery grant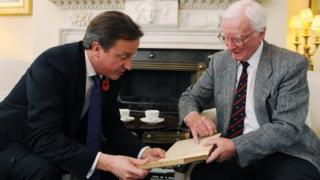 A World War II veteran who took part in the D-Day invasion in 1944 will return to the beaches of Normandy to pay respects to his fallen comrades.
Former RAF Flying Officer Leslie Valentine, 94, from Hethe, Oxfordshire, has been invited to an Armistice Day commemoration in France next month.
His trip has been made possible with money from the Big Lottery Fund.
The Heroes Return 2 programme gives WWII veterans a chance to get funding to return to the places they served.
Mr Valentine was called up for military service at the age of 19 at the outbreak of war.
He played a vital role in the Allied invasion on 6 June 1944, by laying smoke over the beaches to shield the forces from enemy fire.
Then aged 24, he flew his Douglas Boston E Easy light bomber fast and low above the Normandy shoreline amid a barrage from Royal Navy gunships and German 88 heavy artillery defences.
Flying in crossfire
Remembering the mission, he said: "I'd anticipated that it was going to be a little hairy.
"I had just 46 seconds to let off four canisters of smoke.
"The Germans were only half a mile back off the beach. The noise of the shells was deafening.
"Not only was there the chance of being hit in the crossfire but, as the UK forces on the ground were unsure who the aircraft flying so low above them were, they also let fly with small arms fire.
"I was flying at 250mph at only 50ft. I had to hold it very steady - at that speed and height if I'd even sneezed that would have been it."
Two aircraft were lost on the mission but Mr Valentine returned safely to 88 Squadron base at RAF Hartford Bridge in Hampshire.
During the war Mr Valentine carried out many other sorties across France, sabotaging supply lines to disrupt transport of enemy reinforcements.
His targets included road bridges, rail yards, road transport convoys, submarine pens and V1 rocket launching sites.
Mr Valentine is the only survivor of two British servicemen who held the Croix de Guerre (cross of war) with Silver Star, one of France's highest accolades for heroic deeds performed in the liberation of France.
His D-Day flight has also been captured in a watercolour painting called Friendly Smoke by Michael Turner - although the artist did not know it at the time he painted it.
Mr Valentine explained: "My son had bought the painting for me some years ago.
"One day I was looking at it and I had a sort of feeling about it, so I went and got my log book out and saw that my log entry for 6 June showed that I had flown "E' Easy" on that day.
"I couldn't believe it.
"We got in touch with Michael Turner and he visited me with some other copies of the painting and asked me to sign them while he signed my copy, saying 'thank you for being the subject of my painting'."
Since 2009, the Heroes Return programme has awarded more than £25m to more than 52,000 WWII veterans, widows, spouses and carers across the country for journeys in the UK, France, Germany, the Middle East, Far East and beyond.
Mr Valentine, who will attend the commemoration in May before a trip to the beaches, said: "I think Heroes Return is a marvellous idea and I would like to thank the lottery."
Peter Wanless, chief executive of the Big Lottery Fund, said: "As we approach the historic anniversaries of Dunkirk and D-Day we are reminded of the ultimate sacrifice made to secure the peace and freedoms we enjoy today.
"These forthcoming commemorations will not only be fitting tributes to all these incredible men and women but a nation's reflection of the recognition they so truly deserve."
He said he hoped Mr Valentine's story would inspire other WWII veterans to to apply for funding.