Oxfordshire pothole reporting scheme boosts repair rate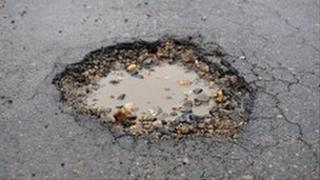 Hundreds of people have posted images of potholes in Oxfordshire online after a council vowed to do more repairs.
An extra £250,000 is being spent on road repairs in the county this spring.
Oxfordshire County Council has received 541 images and reports on the Fix My Street page since its online reporting service was launched three weeks ago.
Highway repair teams fixed more than 1,400 potholes between 1 and 10 April and say they are on target to repair an average 3,000 a month in spring.
The team has been almost doubled from 10 to 19 to tackle road problems, which the council says have been caused by months of bad weather.
A council spokesman said: "Clearly the online reporting system has caught the attention and imagination of residents and is being well used.
"We are pleased that people are taking part and seeing the problems that they have noticed being fixed."
People can take photographs of potholes and upload them online with location details.
The site features an interactive map where users can check whether the pothole they are reporting has already been logged.
Once highways workers have verified a report, the council's contractor pledges to repair the pothole within 28 days, 24 hours in an emergency or four hours for the most severe category.
Most online reports have been of potholes, but the council has said it will investigate other highway faults reported on the page.
The council said the increase in problems is part of a national trend.