Fly-tipping in Vale of White Horse prompts recycle bin concerns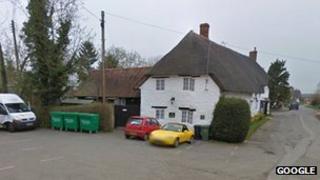 All public mixed recycling bins could be removed from an area of Oxfordshire after problems with fly-tipping.
Vale of White Horse District Council has blamed "irresponsible companies" and "lazy individuals" for dumping non-recyclable waste at bin sites.
The bins are located at 22 recycling banks in the district area, which covers Faringdon and Abingdon, with many in supermarket or pub car parks.
Fly-tipping means recycled waste gets contaminated and is sent to landfill.
The council said non-recyclable waste, including irons and mattresses, had been dumped at the sites turning them into "eyesores".
'Eyesores'
Mixed recycling bins, which are meant for items such as cardboard and glass, have already been removed from a few sites at the request of land owners, according to the council.
The authority said this had "put an end to fly-tipping" in those areas.
Councillor Reg Waite, cabinet member for waste at the council, said: "It is a real shame that we've been forced to consider this course of action.
"Many of our residents are keen recyclers and use these bins in good faith."
A public consultation on the proposal to remove the recycle bins ends on 3 May.
The council said it had no plans to remove charity recycling containers, which are currently located next to the green bins, at the recycling banks.